Event location in the green lung of Leuven
'Centrum Eenheid' is a place that connects people.
Something special always happens here.
Even in these Corona days.
Something that continues to resonate.
Looking for an inspiring meeting room in the Leuven area?
We have small and large meeting rooms for all your brainstorming sessions, board meetings, workshops, meetings, training courses and seminars.
Even if you need a small room,such as for job interviews, or if you are inviting a large number of people for a big event (product launch, anniversary, lecture by an internationally renowned speaker,…), you can also rely on the on us.
We provide catering for lunch meetings, receptions, staff or other parties. We are happy to make you an offer.
Centrum Eenheid can also be rented for multi-day conferences. Thirty beds are available. One bedroom is specially equipped for the disabled. 
Looking for a nice hall for a socio-cultural activity in the Leuven area?
We have several rooms that can be rented separately or together.
For a one-day event or for regular meetings (e.g. monthly training sessions) over the period of a working year.
Centrum Eenheid is also particularly suitable for small-scale performances by stand-up comedians, singers, bands, choirs, brass bands and harmony groups.
We provide catering for receptions and parties.
Centrum Eenheid can also be rented for multi-day conferences. Thirty beds are available. One bedroom is specially equipped for the disabled.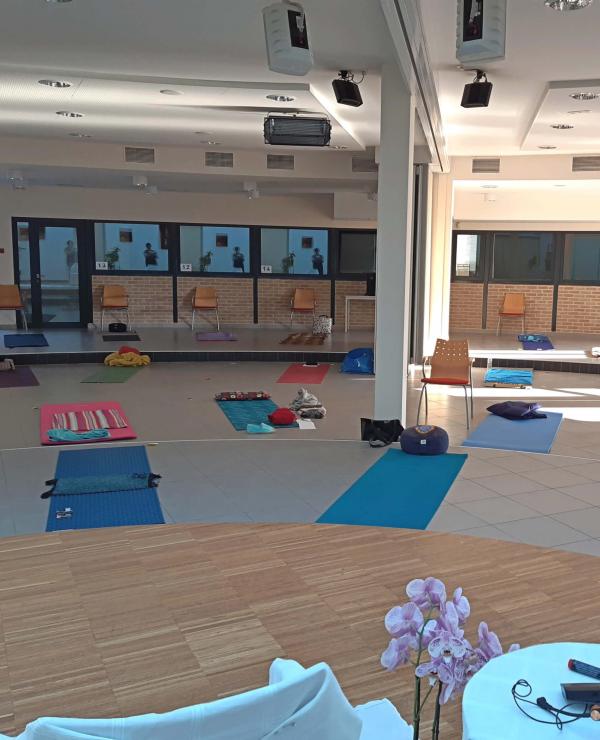 Looking for a room that is big enough, but at the same time feels homely and cosy for your party?
Centrum Eenheid has everything for a successful private party such as a baby shower, communion or wedding. There is even a quiet room for a meaningful celebration.
Of course, you can also use the little lounges scattered around the building. And there is also a large garden too with a gate to a forest that the more adventurous children of the family will certainly want to explore.
Don't feel like driving home at night after the party? No worries! We have thirty beds available.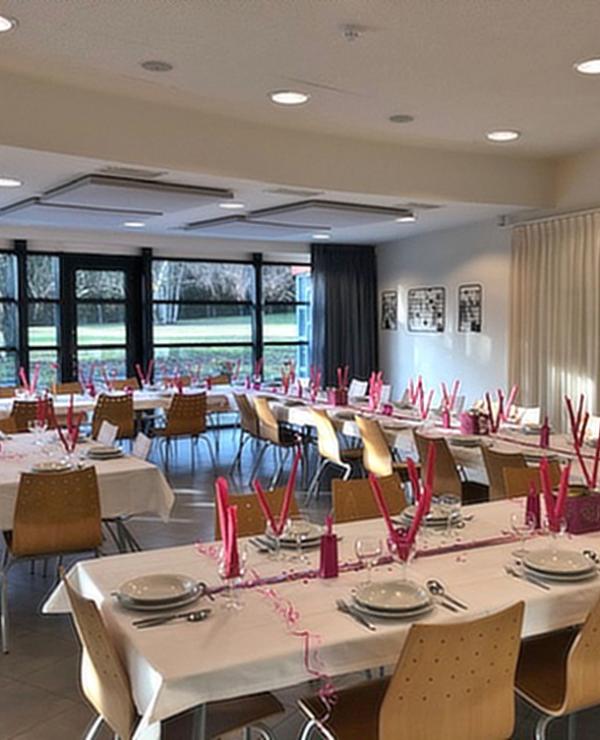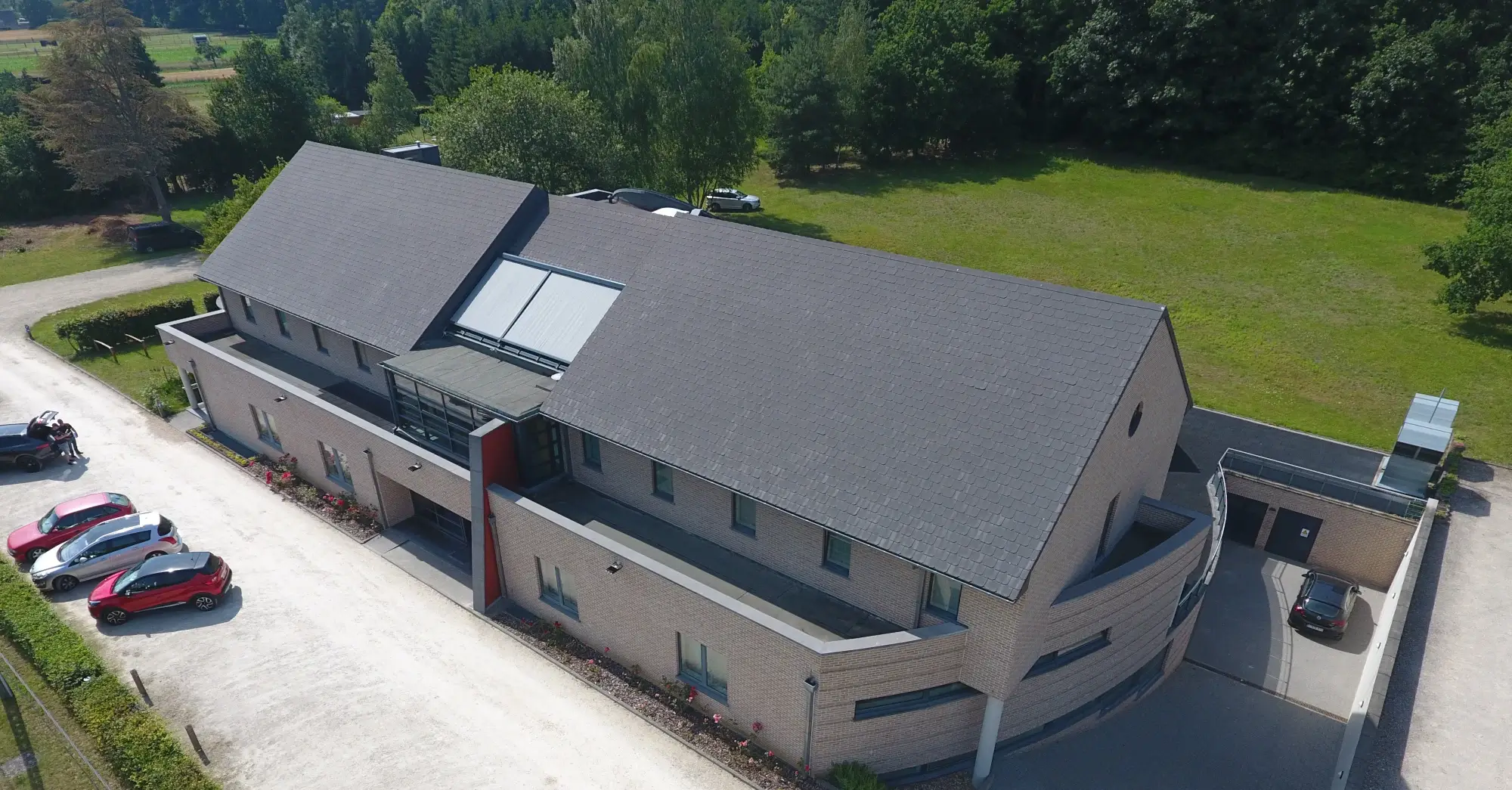 Latest update (15/3/2021): reopened!
We are open again and happy to accommodate your (team) meetings, workshops with physical presence, and other occasions where guests meet 'in real life', all the way keeping safe distances.
Due to strict safety measurements applying till the end of April, we are not allowed to serve meals or even coffee or water, nor to provide accommodation for the night. From 1st May, we hope to be able to offer you a lot more, depending on Government decisions.
We stick to the COVID-19 safety regulations:
wear the mask properly
wash hands – use hand sanitizer
ground floor toilets for ladies only – basement toilets for gents only 
limited number of persons per room
attendance list may serve as tracing document
No worries! Centrum Eenheid has everything needed to assure you safe meetings: plenty of indoor space, a large terrace with garden for outdoor activities, a beautiful wooded area for walking.
If you are looking for a safe venue for your real-life meetings, just contact us.
Call us on +32 16 204816. Send an email to info@centrumeenheid.be or use the chat function on the 'your event' page.
Together we will find the best solutions to make your meeting a success.
As an event organiser, I have seen and experienced many venues. As a seminar and meeting venue, Centrum Eenheid is one of the best you will find. You can tell by all the details how much importance they attach to the visitor's experience. This attention is an important measure for a successful event and Centrum Eenheid is an absolute winner.
Geert Vanoverschelde, Sylvester
The homely atmosphere and warm welcome at Centrum Eenheid make it a pleasure to come back here.
Annemie De Proft, Etion
Centrum Eenheid is a fine place for seminars, fully in accordance with covid-19 measures. Not only is it very practically laid out, the warm welcome and service make it a very pleasant place to be.
Liesbet Bynens, Puur acupunctuur
We have been coming to Centrum Eenheid several times a year for training, workshops and seminars for a long time now. The organisation is always spick – and-span and the reception very hospitable. 
Margriet Wentink, Interakt
Centrum Eenheid is a beautiful centre, architecturally very inspiring: full of light, flexible spaces and excellnet acoustics. It is a modern venue: they have all the necessary logistic support. The staff is very approachable and friendly.
Bieke Vermeulen, Live The Connection
These organisations feel at home in Centrum Eenheid